Directors

President - Anne Nelson, SHRM-SCP
Anne Nelson is the Senior Human Resources Manager at Eriez for the USA Operations. She has worked in human resources management in the manufacturing sector for over a decade, received her SHRM-SCP recertification in January 2021. Anne is a graduate of Drexel University in Philadelphia and has actively been involved with the HRMA since 2017 in various progressive roles. She is honored to be a second time President and is looking forward to an engaging and enrichening program year ahead! Anne can be reached at: 814-460-2810 or at: anelson@eriez.com.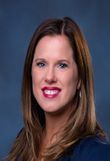 President-Elect – Tracey Cettin, SHRM-CP, PHR
Tracey Cettin is the Human Resources Manager for Erie Federal Credit Union. She has worked in HR for 18 years, including 14 with the credit union. Tracey graduated with a bachelor's degree in Business Management from Pennsylvania State University. She obtained her SHRM PHR in 2015. Tracey has been involved with HRMA of NW PA since 2013 and has held various roles including President for two terms and Vice-President for two terms. She is excited for the continued growth of HRMA of NW PA's volunteers, members, and speakers. Tracey can be reached at 814.825.2436 or tcettin@eriefcu.org.
Secretary - Jennifer LaPaglia, SHRM-PC, PHR
Jennifer LaPaglia is the Human Resource Generalist at ACL - Associated Clinical Labs. Jen has worked in HR for 20 years. After graduating from Edinboro University with a degree in Business Administration, Jen went on to obtain her Master's degree in Industrial and Labor Relations from IUP. She received her PHR in December 2010, earned her SHRM-CP in 2019, and has been a member of HRMA for over 10 years having held the membership, treasurer, and secretary roles. Jen can be reached at 814.461.2495 or jennifer.l.lapaglia@questdiagnostics.com.

Treasurer- Julie Kean, PHR
Julie Kean is the Compensation & Benefits Specialist at Widget Financial. Julie has been performing human resource responsibilities for 10 years in a variety of industries including financial and construction. With an Associates degree in Accounting and many years in accounting and office management, she received her PHR certification in December 2018 and is currently working towards her degree in Human Resource Management. She has been a SHRM member since 2015 and an HRMA member since 2019. Julie can be reached at 814.823.5799 or jkean@widgetfinancial.com.
Committee Chairpersons